NOTICE: This integration method is replaced with a new official Cloud API. You can find the configuration guide here. Here is a comparison of the Cloud API and QR code scan connection.
This connection method requires the Whatsapp Business app installed on your smartphone. You can use an Android or iOS device.

Install the OAPPS for WhatsApp 4 app from the LiveChat marketplace.
The settings page will open after the app is installed. Click Add account
Scroll down and find "Scan QR code" link

Open WA Business app on your phone.
Scan a QR code with your app. Tap dots ⠇ in the app's right top corner (Android) or Settings (iOS) and go to WhatsApp Web/Desktop.
If the connection is successful, you will see this notification. It may take a few minutes to sync:
(Optional) You can list IDs of groups that can access incoming WhatsApp chat. Leave this field empty if f you want incoming chats to be accessible by all agents.
Enter Email - we will send notifications there if the account will disconnect
Give your account a name
Click Save to activate the account
Additional details and restrictions
We recommend using a dedicated phone number for WA customer support.
Note: You can use a personal WhatsApp account for tests, but you must use WhatsApp Business per WhatsApp policy.
Only your customers can initiate contact. You can't reach them proactively with the app.
WA Calling is not supported, only messages. You still receive calls via WA Business app on your phone.
Some media that users send won't be displayed in the LiveChat interface. You may get a Security threat notice.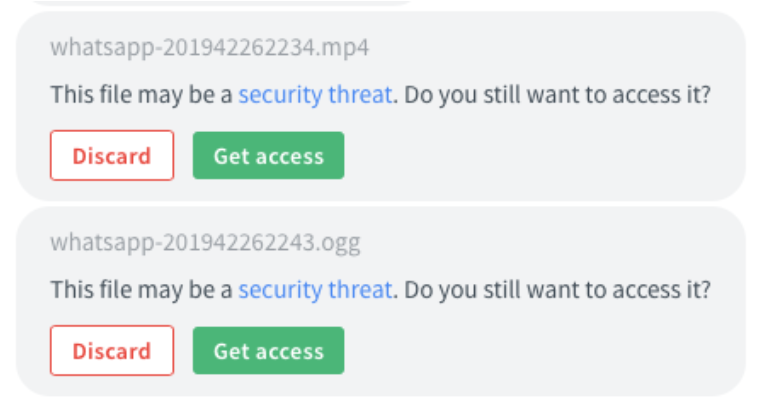 This will happen for video messages (.mp4) and voice messages (.ogg). Press [Discard] to get the message.
Unpairing the phone
To unpair the phone, Go to app settings and open account.
Press Unlink Icon



Now you can connect another phone
Connecting multiple WhatsApp numbers and chat Routing
You can connect more than one Whatsapp phone. Please contact us if you need more than one WA number connected.
You can assign new chats to specific groups in account settings.

How they contact me over WhatsApp?
Publish your contact number via a deep link on your web page or social media. The link format is
whatsapp://send?phone=+**your phone here**
if a user clicks the link on his mobile, the WhatsApp app will open.
or
Go to WhatsApp Business settings -> Short link and use the short link provided.
Also, using a method described here you can set up a button like this:

Setting up greeting messages on WA Business app
You can set up a greeting message in your WA Business app
For Android: https://faq.whatsapp.com/en/android/26000100/?category=5245246
For iPhone: https://faq.whatsapp.com/en/iphone/184629834718838/?category=5245246